W. Cep Reflective Run 4.0 Compression Sleeves - Neon Yellow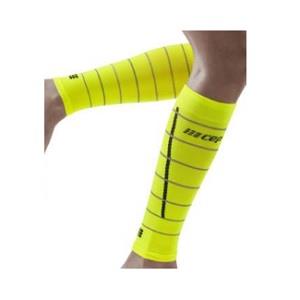 W. Cep Reflective Run 4.0 Compression Sleeves - Neon Yellow
Description:
Perfect for any activity, The Run Compression Calf Sleeves 4.0 allow you to keep your head in the game. Eliminate fatigue, prevent cramping, and experience lighter, stronger legs thanks to CEP's supportive medical grade compression that extends from ankle to calf. Smart Dry Extreme Air Technology adapts to weather conditions so that you stay cool and dry in warmer weather, but warm and comfortable in cooler weather.

Features:
HEIQ clima-management cools the skin
Recovery begins during activity thanks to accelerated removal of lactic acid
Open structure design improves ventilation for optimal breathability
Reduced muscle vibrations prevents shin splints
Treated with silver to reduce unpleasant odors and eliminate bacteria
The functional and stylish design featuring reflective yarn with SMART REFLECTIVE technology guarantees perfect all-round visibility in every situation.